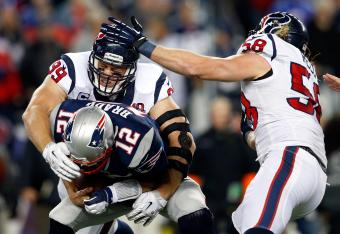 Watt didn't get enough help picking up sacks.
Jim Rogash/Getty Images
The offseason is the perfect time to review the progress the Houston Texans made in key statistical indicators.
Last year, one of the major issues for the Texans was the drop in production from Matt Schaub to T.J. Yates in the area of net yards per attempt (NY/A).
For the uninitiated, net yards per attempt is a derivative of the grandfather of all passing stats: yards per attempt (YPA). In actuality, YPA may be the single most telling stat in football.
If you want to know why teams win and lose, look first at their YPA. Passing yards are wholly irrelevant to winning football games, but YPA goes a long way in determining the outcome.