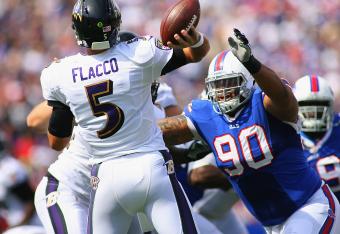 Joe Flacco's ugly, five-interception performance in the Baltimore Ravens loss to the Buffalo Bills underscores a myriad of offensive problems.
Rick Stewart/Getty Images
The Baltimore Ravens notched their second loss of the season in Week 4, dropping to the Buffalo Bills 23-20. Though they managed to dig themselves out of a deficit as deep as 13 points, it wasn't enough to lead them to victory. The main reason? Quarterback Joe Flacco's five interceptions, the most he's thrown in a single game in his career.
Let's take a look at Flacco's five picks and try to draw a few conclusions about what went wrong on Sunday and where the Ravens offense can prevent this from happening again.
Interception No. 1: 1st Quarter, 5:37, 3rd and 7 at the Baltimore 23
Flacco's first interception of the game came in the first quarter on a pass meant for wide receiver Tandon Doss.