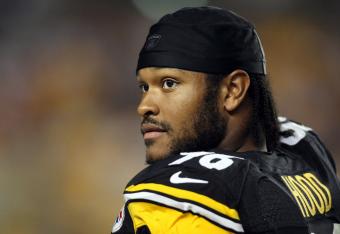 Ziggy Hood is among the Steelers players who have seen their spot on the depth chart change.
Jason Bridge-USA TODAY Sports
With an 0-4 record, the Pittsburgh Steelers needed to make some changes to their roster and their depth chart coming off of their Week 5 bye.
Keeping things the same certainly wasn't an option.
On Tuesday, their Week 6 depth chart listed Kelvin Beachum as the starting left tackle with Levi Brown as his backup. Former starter Mike Adams has been demoted to third-string offensive tackle, backing up Beachum, Brown and right tackles Marcus Gilbert and Guy Whimper.
Defensive end Ziggy Hood gave way to Cameron Heyward, while Vince Williams was given full control of the left inside linebacker job, though the team did re-sign Stevenson Sylvester, which likely means that Williams won't be the starter for long.