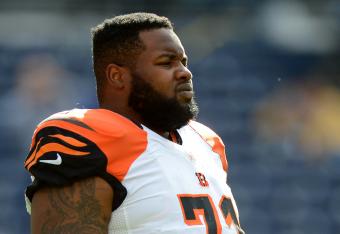 Andre Smith's free-agency status seems to have informed many first-round mock drafts for the Bengals.
Jake Roth-USA TODAY Sports
Though the Cincinnati Bengals have yet to complete their free-agency plans, with offensive tackle Andre Smith and cornerback Adam Jones among their own players they hope to re-sign, it doesn't mean it's too early to take a look at what they may do in next month's NFL draft.
Some of the most noted experts around the league have been compiling their mock drafts for some time now. We're going to take a look at five of them—ESPN's Mel Kiper, Jr. and Todd McShay, CBS Sports' Pat Kirwan, WalterFootball.com and Drafttek—to see what they think the Bengals will do with their 21st overall pick.
Mel Kiper, ESPN: LB Alec Ogletree, Georgia
Mel Kiper published his mock draft on March 11, one day before the start of free agency, and he rather concedes in his explanation of why the Bengals would choose Georgia linebacker Alec Ogletree with this pick that he thinks Rey Maualuga won't be re-signed.