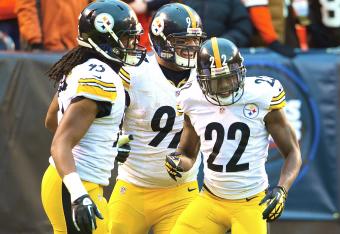 Getty Images
The Pittsburgh Steelers extended their win streak to three in their 27-11 rout of the Cleveland Browns on Sunday. The win brings their record to 5-6 on the year—a record good enough to include the Steelers in the AFC playoff picture with five games yet to play. In fact, if they continue to look as they have in their past three games, it may be hard to imagine a postseason without them.
It's a far cry from how the Steelers' season began, with four straight losses to open the year and problems aplenty on offense, defense and special teams. Though some of those problems still remain—they still can't run the ball well, the defense has given up big plays and punting, in particular, has left much to be desired—they've also managed to minimize their impact.
The biggest reason for the Steelers' turnaround is simple—turnovers. For the past two weeks, their offense hasn't turned the ball over once, while the defense has notched seven takeaways. It has also managed to score as a result.
Against the Browns, cornerback William Gay notched a pick-six as well as a strip sack of Browns quarterback Jason Campbell, which led to an Emmanuel Sanders touchdown pass. Then, a Troy Polamalu forced fumble and recovery led to a field goal. The Steelers also sacked Browns quarterbacks Campbell and Brandon Weeden a combined five times, with outside linebacker Jason Worilds having a career day with double-digit pressures.