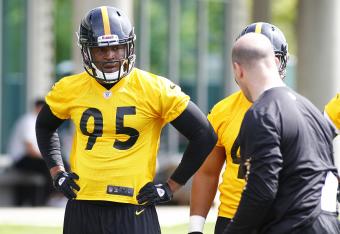 Even the Steelers' first-round pick, linebacker Jarvis Jones, helps their depth needs.
Justin K. Aller/Getty Images
The Pittsburgh Steelers went into the 2013 NFL draft with a number of positional needs, but for the most part, those needs were more about roster depth than finding instant starters.
Aside from Jarvis Jones and Le'Veon Bell, their first- and second-round picks, respectively, the majority of Pittsbugh's picks were to boost what had slowly but surely become depleted depth at a number of key positions. With many starters pushing or just past 30 years old, it was important that the Steelers finally make some aggressive moves.
It started in Round 3 with the drafting of wide receiver Markus Wheaton, a near-clone of former Steelers receiver Mike Wallace. He's fast and has great height and hands, but he's an even better route-runner.
Though Emmanuel Sanders is expected to take on the job Wallace's departure left vacant, Wheaton's presence on the depth chart gives them more options in the passing game immediately. He's a potential starter in a year's time and keeps them from having to rely on older players like Jerricho Cotchery and Plaxico Burress in the long term.