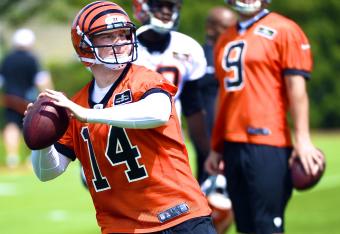 It was revealed over the weekend that the Cincinnati Bengals will be reprising their turn on the HBO NFL-reality series, 'Hard Knocks,' for the second time in five years.
Though many teams opt not to allow the cameras to infiltrate every crevice of their training camp and preseason, fearing it gives opponents a competitive advantage and exposes too much of the team's most secretive plans, the Bengals choosing to give it another shot is an excellent idea this year.
Unlike the Bengals' first go-round in front of HBO's cameras—in which former receiver Chad Johnson played a major role—this season will serve as an introduction to the team's young, talented roster to the world at large, who have mostly left the team ignored over their impressive rise in the past two years.
Including their first 'Hard Knocks' season, the Bengals have finished with an above-.500 record for all but one year, but after Johnson's departure, few NFL fans around the league have found reason to give the Bengals their attention. It was as if the Bengals' being an Ohio team meant that they didn't exist or that they wouldn't be any good. But, in fact, the Bengals have steadily been building one of the most complete rosters in the league, leading to postseason appearances in 2011 and 2012.