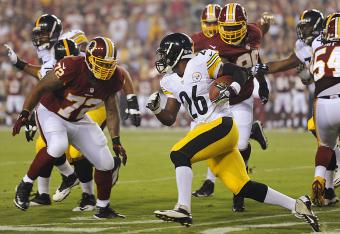 While it's not good that rookie Steelers RB Le'Veon Bell will miss at least six weeks, at least he's not headed for season-ending surgery.
Geoff Burke-USA TODAY Sports
Last season, the Pittsburgh Steelers had one of the worst rushing offense performances in years, averaging a mere 96.1 yards per game running the ball. Their leading rusher was Jonathan Dwyer, who ended the year with 623 yards and just two scores—31 running backs and quarterbacks had more yards than him while dozens more outscored him.
Therefore, it was unsurprising that the Steelers used a draft pick to take a dynamic running back, Le'Veon Bell, whom they selected in the second round. The shifty Bell was the exact component the Steelers run game lacked and, in concert with their offensive line's switch to a zone-blocking scheme, had all the makings of being able to single-handedly help Pittsburgh out of the basement in terms of rushing yards and scores.
Once Bell finally made his preseason debut in the Steelers' Week 2 matchup against the Washington Redskins after healing from slight knee discomfort, the hope was that a newer, better rushing offense was right around the corner. Bell was named the starter and Pittsburgh's first offensive possession featured more handoffs to the rookie than pass attempts.
However, after just four carries netting nine yards, Bell limped off the field with an apparent foot injury. Not long after the dreaded word started spreading—Lisfranc.