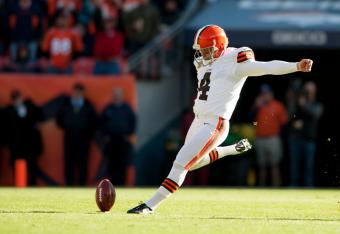 A contract—even for one year—makes far more sense than letting Phil Dawson leave Cleveland in free agency.
Dustin Bradford/Getty Images
ESPN Cleveland's Tony Grossi broke down the situations of each of the Cleveland Browns' 18 free agents on Friday and came to one conclusion—it doesn't look like any will be retained for 2013.
From age to declining skill, poor scheme fit to poor injury histories, each of these 18 players all appear to have enough strikes against them to keep them from getting new contracts or even the franchise tag.
It's hard to argue with Grossi's reasoning on the majority of these players. However, on the list of free agents, one name stands out as the player whom the Browns should invest in, at least for one more year: kicker Phil Dawson.
The issue with retaining Dawson is a financial one. The franchise tag for kickers this year is valued at $2.977 million but with Dawson having received the tag in the last two years, the rules state that any non-quarterback who is to be tagged a third time must receive the tag value of a quarterback, which in 2013 is $14.896 million. Clearly, that is not an option.