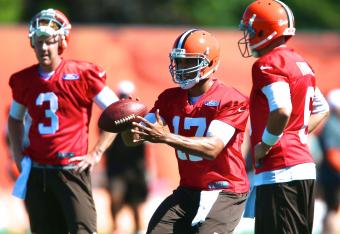 The Cleveland Browns announced on Wednesday that Jason Campbell will be taking over starting-quarterback duties beginning in Week 8 against the Kansas City Chiefs, an expected and inevitable move for anyone who has followed the team and Brandon Weeden's struggles this year.
Campbell's promotion makes him the 20th quarterback to start for the Browns since they reformed as an organization in 1999. It likely marks the end of Weeden's auspicious tenure in Cleveland, just a season and a half into his NFL career.
Campbell, however, isn't the answer at the position in the long term—in fact, it further highlights how long the quarterback position has been a question mark for the Browns and how important it is that this current regime finally gets it right.
On the wall of the Browns' war room, there is a multi-step blueprint for how the team can become a contender in the NFL. It begins: "We will be BOLD. We will have a CHAMPIONSHIP LEVEL QB." Heading into the 2013 season, it was certainly unclear whether that quarterback was already on the roster.