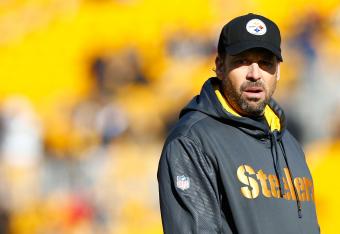 The Arizona Cardinals are apparently interested in talking to current Steelers offensive coordinator Todd Haley about their head coaching vacancy. It would be best for the Steelers for him to stay.
Jared Wickerham/Getty Images
Current Pittsburgh Steelers offensive coordinator Todd Haley will meet with the Arizona Cardinals, likely this week, to discuss their vacant head coaching position. Haley's quite familiar with the Cardinals—he was their offensive coordinator in 2007 and 2008—which may give him an advantage, but if he walks, it's not good news for the Steelers.
Though Haley has been a rather polarizing figure in Pittsburgh since taking over for the equally as divisive Bruce Arians in the 2012 offseason, his time with the Steelers hasn't been a disaster. Under his control, Pittsburgh's offense was more efficient, though less flashy, and while it wasn't without its hiccups, a second year in his system should help things come together even better.
With Haley as coordinator (at least until Ben Roethlisberger's Week 10 rib and shoulder injury), Pittsburgh's offense was tops in the league at third-down conversions and second in average per-game time of possession. Haley's conservative, ball-control approach wore down defenses, especially those expecting the big-play passing from Arians' days with the team.
Though Roethisberger threw deep passes—those of 20 or more yards—less often (10.5 percent of his throws in 2012 to 13.3 in 2011), it increased his overall accuracy from 70.9 percent in 2011 to 75.8 percent this year. With fewer risky throws, Roethlisberger's interceptions also dropped, with just eight in 13 games played compared to 14 in 2011, in 15 regular-season games.