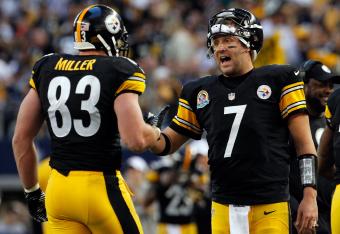 How will the Pittsburgh Steelers approach missing tight end Heath Miller for at least the start of the season?
Tom Pennington/Getty Images
When Pittsburgh Steelers tight end Heath Miller tore his ACL, MCL and PCL in the final game of the 2012 season, it was obvious that the Steelers would need to find a way to minimize the impact of his absence in the following season. Considering both the nature and the timing of the injury, the odds seemed quite high that Miller would miss at least a few games once September rolled around.
Miller started training camp on the physically unable to perform list and won't likely be coming off any time soon. There's also a chance that Miller starts the season on the reserve PUP list, keeping him sidelined for the first six games.
General manager Kevin Colbert said earlier this month that Miller won't be ready for Week 1, though his rehabilitation is going well and as planned, so at least the Steelers will have him back at some point this season.
Until that time, however, the Steelers must figure out how to make up for the loss of the seemingly irreplaceable Miller.