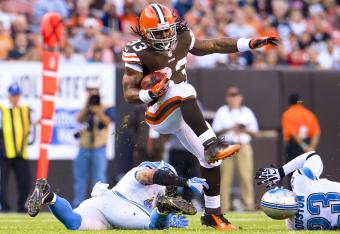 Since announcing their roster cuts last week and on Saturday, the makeup of the Cleveland Browns has changed significantly, particularly at the running back position. With Montario Hardesty and Dion Lewis on injured reserve, the team was clearly needy for a backup for Trent Richardson.
Initially, that appeared to be Brandon Jackson. However, in the preseason he rushed for only 43 yards on 28 carries (a 1.5 yards-per-carry average) and looked more valuable in the passing game, with nine receptions on 10 targets for 73 yards and a score.
And behind Jackson was, well, no one. The Cleveland running back depth chart was incredibly thin by the time the team made public their initial 53-man roster and it was clear that additions would be necessary, especially considering Richardson's injury-spotted past.
The result was a bit more aggressive than expected. Cleveland was quick to add Bobby Rainey (waived by the Baltimore Ravens) and Dennis Johnson (waived by the Houston Texans) and instead of bringing them on to complement the pair of Richardson and Jackson, the signings spelled the end of Jackson's time with the team.