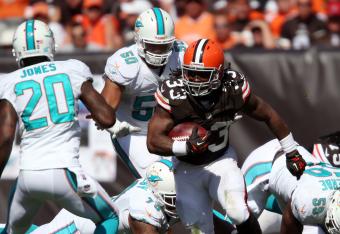 It is simply not acceptable that Trent Richardson had only 13 carries in Cleveland's loss to the Miami Dolphins.
Ron Schwane-USA TODAY Sports
In the Cleveland Browns' Week 1, 23-10 loss to the Miami Dolphins, the team converted just one of its 14 third downs. Quarterback Brandon Weeden threw three interceptions in the first half, the team scored just one touchdown, and Weeden's targets dropped four of his passes.
However, the Browns opted not to run the ball very much, even when they entered the second half of the game with a one-point lead. Trent Richardson was the only Browns running back to touch the ball on Sunday, with 13 carries for 47 yards and only five rushes in the second half.
Cleveland's refusal to run directly led to its loss. It should serve as a warning. Richardson needs to get more carries if the Browns offense is to have an improved season.
According to Pro-Football-Reference, Richardson had no third-down carries in Sunday's loss—however, it was for good reason. Only two of Cleveland's third downs needed yardage that could have come from the run—a first-quarter 3rd-and-2 and a second-quarter 3rd-and-4.