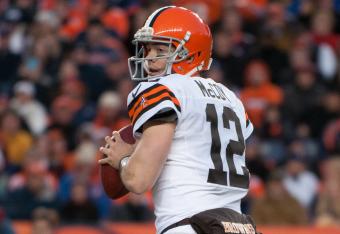 Colt McCoy is now the second former Cleveland Brown to head to the San Francisco 49ers.
Dustin Bradford/Getty Images
It appears that the Cleveland Browns have found a solution to their Colt McCoy problem.
On Monday, ESPN's Adam Schefter reported that the Browns traded McCoy and their sixth-round 2013 draft pick to the San Francisco 49ers for fifth- and seventh-round picks in 2013. They have finally managed to divest themselves of a fairly expensive albatross hanging around their neck, getting a bit of value in return.
McCoy had a total salary-cap hit of $2.5 million for 2013, while last year's starter—and this year's front-runner for the job—Brandon Weeden, is set to make just $1.8 million. Campbell is slated to make $1.5 million.
For the Browns to have a third-string quarterback as their highest-paid player at the position was out of the question, even if the team could afford the cap hit without issue.