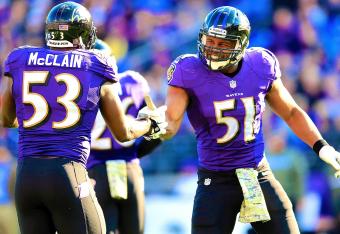 The Baltimore Ravens brought the Cincinnati Bengals down to earth on Sunday in their overtime, 20-17 defeat of the AFC North's top team. Now at 4-5 and tied for second place in the division with the Cleveland Browns, the Ravens have found themselves only 1.5 games back from the 6-4 Bengals.
The AFC North is very much up for grabs, with the Bengals dropping their second game in a row and the Ravens snapping a three-game losing streak. But though the win was big, it also provided examples of why the Ravens are still far from being true playoff contenders.
On offense, the Ravens struggled much as they have all season. Two Joe Flacco touchdown passes in the first half made it appear as though Baltimore had righted those wrongs. They went into halftime up 17-0, but they had only 94 yards of total offense, with Flacco completing only nine of his 18 pass attempts for two touchdowns and an interception.
The run game was again disappointing. Including overtime, the Ravens had just 85 rushing yards on their 30 attempts, good for an average of just 2.8 yards per carry. It wasn't augmented by a sharp passing game—Flacco had only 140 passing yards on his 20-of-36 passing and he added no additional points after the first half. He turned the ball over three times, with two interceptions and a lost fumble.