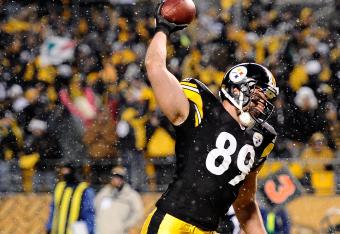 Matt Spaeth is the latest former Steeler to return to the team. Why do they keep doing this?
Karl Walter/Getty Images
Unlike every other franchise in the NFL, the Pittsburgh Steelers appear to be more than willing to bring back players they have cut in previous seasons.
Presently on their roster are linebacker Larry Foote (spent 2009 with the Detroit Lions; re-signed in 2010), cornerback William Gay (had one year in Arizona before returning this month), wide receivers Plaxico Burress (went from Pittsburgh to the New York Giants, to prison, to the New York Jets before coming back to the Steelers in 2012) and Antwaan Randle El (re-signed by the Steelers in 2010 after spending 2006 through 2009 with the Washington Redskins) and offensive tackle Max Starks (cut by the Steelers in July 2011 and re-signed in October 2011).
This week, they brought back tight end Matt Spaeth, a 2007 draft pick who spent the last two seasons with the Chicago Bears. In 2010, corner Bryant McFadden returned to the team after a two-year stint with the Arizona Cardinals, spending two more seasons with the Steelers before finding himself out of the NFL altogether.
The practice seems to run counter to the "what have you done for me lately?" culture of the league. While it's not reflective of loyalty in the traditional sense—all of these players were cut initially, after all—it does show a willingness to value the familiar over the unknown, whether the unknown is in the form of another outside free agent or a draft pick.