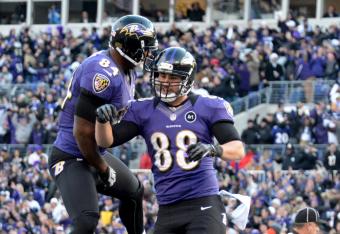 Who needs Anquan Boldin when you've got two talented tight ends?
USA TODAY Sports
When the Baltimore Ravens traded Anquan Boldin to the San Francisco 49ers following a contract dispute, the question became who would take up his spot as the team's No. 2 receiver.
Boldin's three seasons with the Ravens saw him become a valuable member of the team's offense, providing a reliable playmaking target for quarterback Joe Flacco, especially in the Ravens' recent playoff run and Super Bowl win. To replace him, they either needed to have full confidence in another of their own receivers or find a new one, either via free agency or the draft.
However, the Ravens opted to not bring on a free agent nor to take a rookie receiver with a high draft pick (they spent a seventh-rounder on Aaron Mellette). The prevailing thought was that receiver and kick returner Jacoby Jones would be moved up to the No. 2 spot, with Tandon Doss and Deonte Thompson battling to make names for themselves in the rotation (Thompson, in particular, has received a good deal of praise this offseason).
The fact that the Ravens chose not to significantly add to their pool of receivers made it seem like those currently on the roster satisfy their needs. But really, the decision may have not been based on the talent of their receivers but rather the skills of their two tight ends, Ed Dickson and Dennis Pitta.