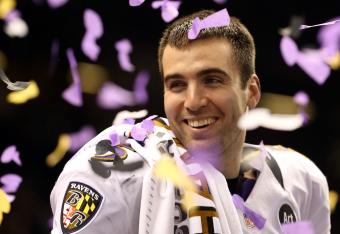 Super Bowl MVP Joe Flacco threw 11 touchdowns and no interceptions in his postseason run.
Mark J. Rebilas-USA TODAY Sports
Based on their stellar playoff run, it appeared the Baltimore Ravens were destined to win the Super Bowl, and considering how they handled the San Francisco 49ers in the first half of Sunday's game, it looked to be an inevitability.
Though the second half proved to be a challenge for the Ravens, they never lost sight of their ultimate goal and managed to secure themselves their second Lombardi trophy in franchise history, defeating the 49ers, 34-31, in a twisting, turning game that required big plays on offense, defense and special teams to pull off the win.
The postseason-experienced Ravens started strongly, scoring on their opening drive on a 13-yard Joe-Flacco-to-Anquan-Boldin touchdown strike—something that has become all-too familiar in the past few weeks. Flacco handled pressure well, connecting with receivers and extending drives even when the Niners pass rush appeared to close in, and by the end of the first half he had thrown his way to a 21-6 lead over San Francisco.
At the same time, Baltimore's defense did a strong job of containing Niners quarterback Colin Kaepernick when it came to him taking off, holding him to just 16 yards and two runs.