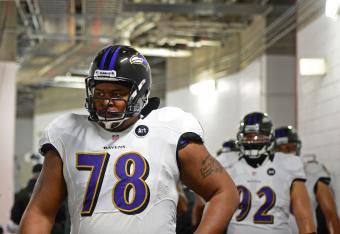 For the third straight summer, offensive tackle Bryant McKinnie has reported to training camp overweight.
Mark J. Rebilas-USA TODAY Sports
Baltimore Ravens left tackle Bryant McKinnie was held out of the team's first training camp practice of the year on Thursday, after he showed up 10 pounds overweight, according to Aaron Wilson of The Baltimore Sun.
Stop me if you've heard this one before.
McKinnie has a history of weight and conditioning issues. Last year, McKinnie didn't pass the team's mandatory conditioning test until August, after he missed the first part of training camp with a back injury he ascribed to a slip-and-fall. His first attempt at the conditioning test ended with a hamstring pull. Earlier in the year, he arrived to minicamp well over his target weight of 345 pounds.
In 2011, McKinnie showed up to the training camp of his then-team, the Minnesota Vikings, weighing nearly 400 pounds. The transgression resulted in his release, and his former teammates lamented not his departure, but his lack of discipline while he was with the Vikings.