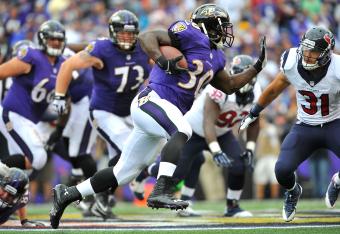 Bernard Pierce and the run game needs to lead the way on offense for the Ravens this week.
Larry French/Getty Images
The passing game isn't what it was in 2012 for the Baltimore Ravens. It's not just trading wide receiver Anquan Boldin to the San Francisco 49ers—it's also the hip injury suffered by tight end Dennis Pitta and the MCL sprain of receiver Jacoby Jones that has the Ravens in a bad way right now.
While quarterback Joe Flacco's completion percentage of 60.5 isn't much changed from his career averages to this point, the fact that he's averaging a professional low of 6.25 yards per attempt and has thrown just three touchdowns to two interceptions through three games tells the tale of the team's struggles.
The Ravens have dropped from 12th in passing yardage in 2012 to 20th presently, with Flacco throwing for an average for 231 yards per game. Though the team handily defeated the Houston Texans 30-9 last Sunday, it wasn't because of Flacco's big arm. Defense and running the ball led to the win, and Flacco passed the ball 24 times compared to 31 total team rushes.
The run game will be the main plan of attack for Baltimore this Sunday when the team travels to Buffalo to face the 1-2 Bills. The Bills are struggling on defense as it is, with the 417.3 yards they are giving up on average bad enough to rank them 28th in the league. Their run defense, in particular, is performing poorly; it is giving up 155 yards per game, and teams are running on the Bills an average of 36 times per game, the most in the league.