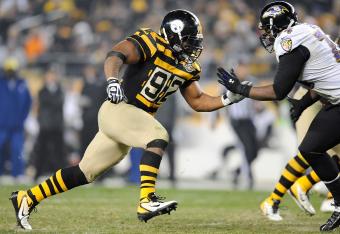 If James Harrison realizes the money isn't going to come in, would he return to Pittsburgh on a reduced salary?
Joe Sargent/Getty Images
When the Pittsburgh Steelers released veteran linebacker James Harrison earlier this month, it was a result of Harrison's camp's unwillingness to accept a pay cut. He was due a base salary of $6.75 million in 2013 and over $7 million in 2014, and he had a total cap hit this year of around $10 million.
For a 10-year veteran on a cash-strapped team, that was simply too much money for the Steelers to pay him. But ego—or the whispers of his agent, Bill Parise—kept Harrison from taking a lowered pay day that converted much of his guaranteed money into incentives, and the Steelers had no choice but to part ways and move on.
According to Aaron Wilson of the Baltimore Sun, Harrison has spoken to seven teams since his release, including the rival Baltimore Ravens, but he has yet to schedule any visits, let alone sign a new contract.
Sports Illustrated's Peter King said in his "Monday Morning Quarterback" column this week that Harrison's name is the "coldest" on the free-agent market, according to the league sources he's spoken with at the league meetings in Phoenix.