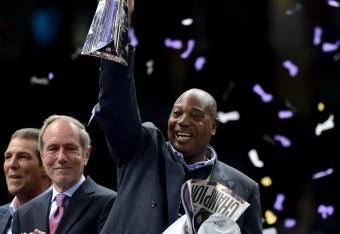 In Ozzie Newsome, the Ravens can trust—Most of the time.
Harry How/Getty Images
The key to long-term roster health in the NFL is to draft well. By developing young players into tomorrow's starters, teams don't have to rely on expensive free agents to round out the team, nor do they have to continue to overpay past-their-prime veterans.
The Baltimore Ravens have a very solid draft history, with more successes than failures. However, there have been some notable misses to go along with their many hits. Here are a few of the biggest studs and duds of the Ravens' draft classes over the last five years.
Stud: QB Joe Flacco, 2008, Round 1, Pick 18
In the five years since the Ravens drafted Joe Flacco to be their quarterback of the future, he's led them to the playoffs each season and ultimately capped off his first contract with the team by helping them win the franchise's second Super Bowl. He was rewarded with a six-year, $120.6 million contract as a result, and while the fortuitous timing had something to do with it, it is also a legitimate reward for one of the most solid quarterbacks in the league.