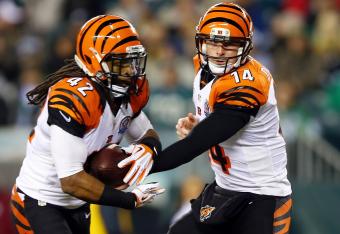 Where should the Bengals look to get a change-of-pace back to work alongside BenJarvus Green-Ellis?
Elsa/Getty Images
Despite needing to add to their stable of running backs in 2012, the Cincinnati Bengals opted to bring in just one rookie via the draft—Dan Herron, whom they selected in Round 6—and anticipated putting most of their running eggs into two baskets—free-agent acquisition BenJarvus Green-Ellis and fourth-year Bengals back Bernard Scott.
However, Scott's 2012 was riddled with injury—first, one to his hand that dogged him throughout the preseason, then an ankle sprain that had him miss one game and finally suffering an ACL tear in Week 5 that ended his season. He's now about to become an unrestricted free agent and probably won't return to Cincinnati for the 2013 season.
Fellow Bengals backs Cedric Peerman and Brian Leonard are also both unrestricted free agents this year, making Green-Ellis the only guaranteed player at the position to return to the Bengals as of now. Clearly, Cincinnati will need to make at least one addition at running back this offseason, but the question remains whether they'll do so via free agency, the NFL draft or a combination of the two.
Of the three impending free agents, Peerman seems to be the most likely to return, considering how effective his special teams contributions have been. But the Bengals will still need to bring on at least one other running back to complement Green-Ellis—someone shifty and fast to provide a change-of-pace to Green-Ellis' straightforward style.