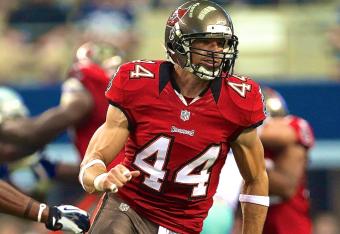 On the heels of the Baltimore Ravens' preseason Week 1 win over the Tampa Bay Buccaneers, the team, per Jeff Zrebiec of the Baltimore Sun, signed two veteran free agents to boost its receiving corps—wide receiver Brandon Stokley and tight end Dallas Clark.
Though the Ravens defeated the Buccaneers by a 44-16 margin, the first-team offense was a halting affair. Starting quarterback Joe Flacco threw an interception after receiver Jacoby Jones failed to execute the proper route and the rest of Flacco's passes were to running back Ray Rice and fullback Vonta Leach. Clearly, the Ravens didn't think much of their receivers despite the win and chose to bring on the two experienced free agents to give their offense a boost.
The Ravens certainly needed to find a workable solution to the one-two punch of having traded receiver Anquan Boldin in the offseason and losing tight end Dennis Pitta for the season with a hip injury. But can Clark and Stokley give the Ravens what they need?
For the short term, at least, the answer is yes. Jones' gaffe during the first preseason game is a reminder why he didn't last with the Houston Texans—when asked to take a major receiving role in an offense, he's often overwhelmed. It is also a reminder that the Ravens are still thin at receiver, especially in regard those who could potentially start.