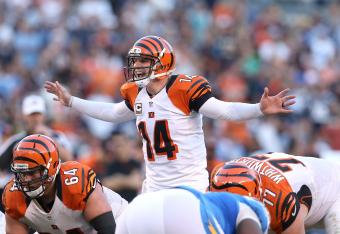 Can Andy Dalton find postseason success? Or is he always doomed to be one-and-done in the playoffs?
Stephen Dunn/Getty Images
The Cincinnati Bengals have an 8-4 record headed into Week 14 and sole possession of the AFC North. If they can keep hold of it, that means a third straight season will end with a trip to the playoffs. It's also the third season Andy Dalton has been the Bengals' starting quarterback. This is not a coincidence.
Prior to the Bengals drafting Dalton in 2011, the team was seesawing between good seasons and less-than-good ones. There was seemingly little stability, and though the quarterback situation with Carson Palmer wasn't entirely to blame, it's hard to deny that the era hearkened in by drafting Dalton has been a good one for the Bengals.
In his first two seasons, the Bengals reached the playoffs, and they're on the verge of reaching them again. The only problem? The Bengals' past two postseason appearances have been one-and-done, being bested each time by the Houston Texans.
For all that Dalton had done to get his team to January football, he did just as much to keep it from advancing. He has yet to throw a postseason touchdown, while he's turned the ball over four times. Last year, he completed only 46.67 percent of his passes in the loss to the Texans. Questions arose about whether or not he could handle the pressure of a big game.