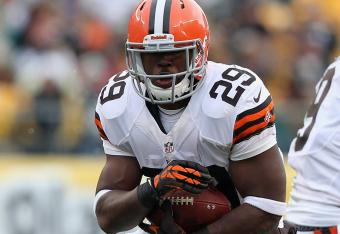 Running back Brandon Jackson is back with the Browns, bringing them up to six running backs on their present roster.
Karl Walter/Getty Images
On Tuesday, the Cleveland Browns landed undrafted rookie running back Miguel Maysonet, whom they were awarded off waivers after he was released by the Philadelphia Eagles.
Though the Browns also released two other undrafted rookie running backs—Robbie Rouse and Jamaine Cook—they chose to bring back another back in Brandon Jackson, who spent the last two years with the Browns and appeared in two games last season.
That puts the Browns at six running backs—Trent Richardson, Montario Hardesty, Dion Lewis, Chris Ogbonnaya, Johnson and Maysonet.
Among AFC North teams, only the Pittsburgh Steelers presently have as many running backs on their roster, and rightfully so, considering the crisis they faced at the position in 2012.