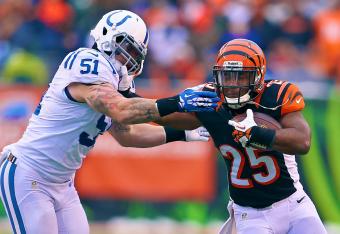 Getty Images
The Cincinnati Bengals defeated the Indianapolis Colts on Sunday by a score of 42-28. The win gives them control over the AFC's third seed in the playoffs and puts them on the verge of moving up to the No. 2 spot, which comes with the crucial home-field advantage.
The victory also extends their win streak to three games. With three favorable contests ahead, starting next Sunday night against the Pittsburgh Steelers, the Bengals appear to be getting hot at exactly the right time.
What makes the win even sweeter for the Bengals is that it didn't come in spite of their quarterback, Andy Dalton. In his last two games, Dalton has been held to under 200 passing yards and had thrown three interceptions to four touchdowns. Against the Colts, he looked more like the Dalton of October.
Dalton completed 24 of 35 passes for 275 yards and three touchdowns. He had no turnovers and was neither hit nor sacked by Indianapolis' defense. He was again on-target with his most dynamic receiver, A.J. Green, who caught six of eight passes thrown his way for 72 yards and a touchdown. Dalton also spread the ball around, targeting nine different receivers. Seven recorded catches.