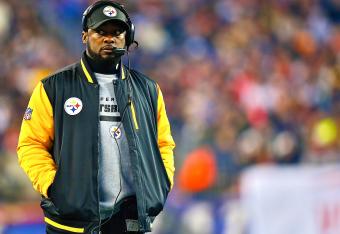 Getty Images
As expected, Pittsburgh Steelers head coach Mike Tomlin was levied a fine by the NFL for his interference with Jacoby Jones' kickoff return in the team's Week 13 loss to the Baltimore Ravens. He'll have to cough up $100,000 for his actions, and the league may opt to dock the Steelers a 2014 draft pick once the order is set.
Tomlin said on Tuesday that his actions were "embarrassing, inexcusable, illegal, a blunder," adding, "I acknowledge that my actions unfortunately became part of the play," and "I embrace the responsibilities that come with my position, and understand the repercussions from a blunder of that nature."
Tomlin also made it clear that he did not intend to interfere with Jones' kickoff return, which went 73 yards before Jones was tackled by Pittsburgh's Cortez Allen.
Until and unless the NFL chooses to take away one of the Steelers' upcoming draft picks, this case is closed. There will be no way for the league to establish whether or not Tomlin truly intended to interfere, and Tomlin himself is ready to move on.