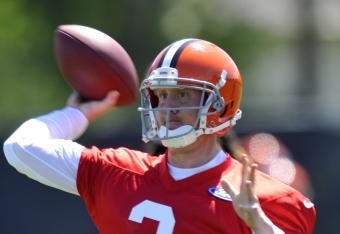 A lot is riding on Browns quarterback Brandon Weeden making significant improvements in his second year in the NFL.
David Richard-USA TODAY Sports
ESPN Cleveland's Tony Grossi spoke with new Cleveland Browns offensive coordinator Norv Turner, and the first part of that conversation was released on Monday. The topic? Quarterback Brandon Weeden.
Weeden may be nearly 30 years old, but he's a second-year quarterback dealing with the complexities of full regime change that came after Jimmy Haslam bought the Browns during the 2012 season.
The team's 2013 fate rests in his hands, which means the Browns coaching staff must do all it can to continue his development and turn him into the franchise quarterback the team has lacked for over a decade.
Let's take a look at how Turner and the rest of the Browns' coaching staff can help Weeden get ready to make a leap in 2013 and put the team in a position to contend in both the AFC North and the NFL for years to come.