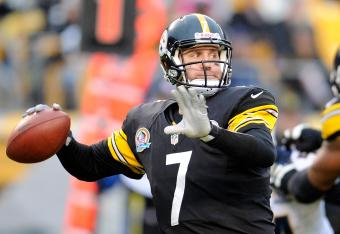 Does Ben Roethlisberger's long-term future in Pittsburgh hinge on his 2013 season?
Joe Sargent/Getty Images
2013 marks the 10th season that Ben Roethlisberger has been the Pittsburgh Steelers' starting quarterback. In his Steelers career, Roethlisberger went from Offensive Rookie of the Year in 2004 to the youngest passer to ever win a Super Bowl. He's been to the Pro Bowl twice and is the Steelers franchise passing yardage leader.
Despite a changing cast of wide receivers, running backs, coaches, coordinators and, of course, offensive linemen, Roethlisberger has managed to string together successful seasons that more often than not end with the Steelers in the playoffs. His ability to extend plays while taking punishment other quarterbacks couldn't withstand has been his hallmark and his biggest strength.
That repeated punishment takes a toll, though. Throughout the course of his career, Roethlisberger has suffered a number of injuries, including ones that have caused him to miss games. He hasn't played a full, 16-game season since 2008 and the three games he missed in 2012 was a major reason for the Steelers ending the year with an 8-8 record, resulting in just the third time in his career that the Steelers didn't reach the postseason.
Though Roethlisberger is just 31 years old, he's taken enough hits and suffered enough injuries to have a playing age of 35 or older. The Steelers also just chose to draft a quarterback, Landry Jones, for the first time since 2008. While Roethlisberger is still under contract through the 2015 season, it's curious that the Steelers chose not to extend him—something they do when they're two seasons away from expiring—despite yet again restructuring it.