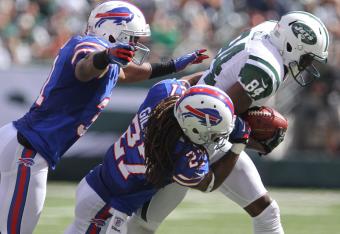 Two stars return to the Bills defense—safety Jairus Byrd (left) and cornerback Stephon Gilmore (middle).
Ed Mulholland-USA TODAY Sports
The injury to quarterback EJ Manuel could not have come at a worse time for the Buffalo Bills. Conversely, the return to action of safety Jairus Byrd and cornerback Stephon Gilmore this week is as well-timed as Superman swooping in to save the day.
And they didn't even have to turn back time to do it.
During a press conference on Wednesday, via BuffaloBills.com, Bills head coach Doug Marrone said that he expects both Gilmore and Byrd to return against the Cincinnati Bengals this week. The only thing they're both missing is a red cape.
There could be a drop off in production on the offensive side of the ball in Manuel's absence, so it may be up to the defense to raise its level of play if the Bills are going to win games without their starting quarterback.