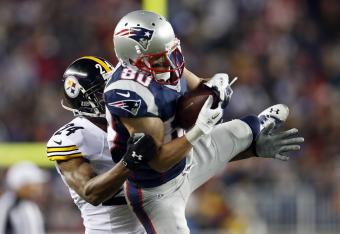 Greg M. Cooper-USA TODAY Sports
There is a long line of receivers who have failed to pan out for the New England Patriots, but based on his performance so far this season, Danny Amendola will not be one of them.
His quickness, toughness and ability to get open over the middle have made him a quick fit in the Patriots offense.
He's only been on the field for five of the team's nine games, but he's getting healthy at the right time, and was listed as a full participant in practice on Thursday for the first time since Week 1. Even in his limited playing time, Amendola has shown something a lot of receivers have lacked: quick chemistry with quarterback Tom Brady.
It's not just about showing up on Sunday to do his job, though. With his immediate impact on the field, and his work ethic off the field, Amendola is writing the book on how to be a successful receiver for the Patriots.