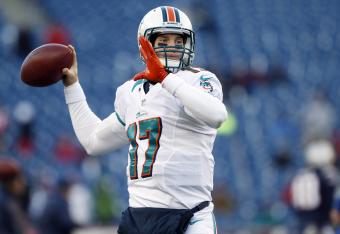 USA TODAY Sports
As the quarterback goes, so goes the offense. That's why, although the Miami Dolphins have done all they can to take the pressure off of quarterback Ryan Tannehill and make his job easier, they've also subsequently raised the expectations around their second-year signal-caller.
But are those expectations too high?
If you're looking at just the stats, Tannehill was one of the six worst starting quarterbacks in the NFL in terms of passer rating and one of the 10 worst in completion percentage. He threw 12 touchdowns and 13 interceptions, and was one of just five starters (along with Matt Cassel, Brandon Weeden, Mark Sanchez and Jake Locker) to throw more interceptions than touchdowns last year.
Company like that and numbers like that from Tannehill in 2013 will not cut it.