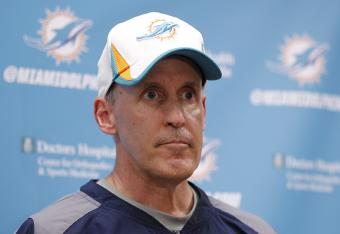 Joel Auerbach/Getty Images
Plenty of statistics can measure a defense, and the Miami Dolphins defense was seventh-best in the league in the most important metric in football: points.
While the end result is desirable in that regard, head coach Joe Philbin wasn't necessarily happy with how they got there last year. He looked at two different statistics where the Dolphins need to improve.
Philbin said, "Overall, defensively when we started the offseason plan we looked at a couple of different things that we wanted to do, primarily everything has been about limiting explosive pass plays and creating more takeaways.
"That was the overall theme of how we were going to improve our defensive football team, those were the two things that we did not do well enough to be a consistently winning football team on defense."