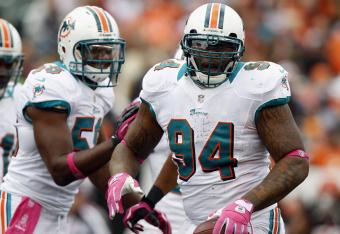 Matt Sullivan/Getty Images
One of the Miami Dolphins' strong points in 2012 was the ability of their defensive line against the run. With defensive tackle Randy Starks set to hit free agency, that strength was threatened.
According to Jason La Canfora of CBS Sports, the Dolphins have placed the franchise tag on Starks, preventing him from hitting free agency.
It was easy to see this coming; Starks was identified as the only sensible option for the franchise tag.
Even though it's not a surprise, the news likely doesn't sit too well with Starks, who related the franchise tag to the clearance rack via Twitter, and said he wants to stay with the team long-term.