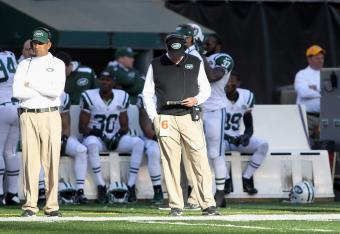 (Photo by John Grieshop/Getty Images)
Win. Loss. Back and forth the New York Jets go in 2013, and while they're a lot more exciting than watching two of your friends play Pong, they're becoming equally predictable.
The Cincinnati Bengals knocked the Jets to the other side of the stadium on Sunday in a 49-9 loss that, while expected, hammered home larger points about the Jets.
From the offense to the defense, the Jets were the wrong kind of gangrene on Sunday. Unlike the real gangrene, though, it's not about amputating one (proverbial) limb. This requires an in-depth diagnosis of the whole body of work.
"When you come off a win like we came off against one of the best quarterbacks in the NFL and we come into this weekend and we basically go out there and lay an egg, every man needs to look at himself and figure out what they've got to try to do," Cromartie said after the loss to the Bengals.