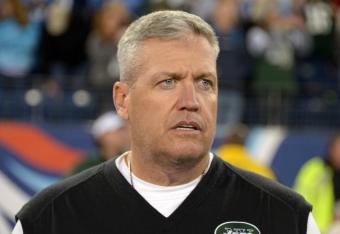 USA TODAY Sports
Rex Ryan and the New York Jets have undergone a lot of changes over the past two years. That's bound to happen when a team goes from winning to losing as quickly as the Jets did.
Whether the changes in the front office are for better or worse remain to be seen (so far, so good), but the changes in Ryan's demeanor with the media went hand-in-hand with a visible change in his waistline.
Some people liked Rex more when he had bold swagger, but that seems to have taken a backseat. Rest assured, though, Rex has not lost his nerve, and it's a good thing, because he could be coaching for his job in 2013.
The potential for Rex to hit lame-duck status doesn't seem to be bothering him any.