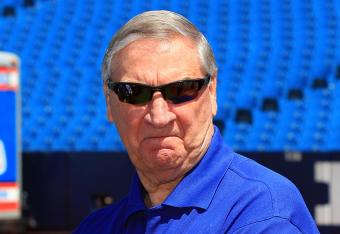 Kevin Hoffman-USA TODAY Sports
It looks like the Buffalo Bills saved their biggest front office shake-up for the slowest period in the NFL offseason.
General manager Buddy Nix announced on Monday morning that he would be stepping down as the GM and transitioning to a role as an assistant (via the Bills official Twitter account).
It was reported months ago that assistant general manager Doug Whaley would have an increased role within the organization, though that has not yet been confirmed by the team. Nix will still be involved but in a lesser capacity as an assistant. That will be music to some Bills fans' ears.
So, what will change with Nix stepping into a lesser role and, presumably, Whaley stepping in as GM? Probably not much, to be frank. Whaley has learned under Nix, so he will probably carry similar philosophies as a general manager. Likewise, Nix's presence—and thereby, his influence—will still be felt around Orchard Park, as he will still be an assistant.