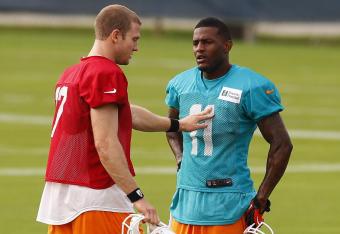 Can Dolphins QB Ryan Tannehill (left) quickly get on the same page with dynamic WR Mike Wallace (left)? That's the big question in Dolphins training camp this year.
Robert Mayer-USA TODAY Sports
When the Miami Dolphins unloaded a BRINKS truck to address their need for a speed threat at wide receiver—signing the dynamic Mike Wallace to a five-year, $60 million contract—the biggest question was whether he could build chemistry with quarterback Ryan Tannehill the way he had with Steelers quarterback Ben Roethlisberger.
We don't have our answer yet, and we won't get our answer until the team suits up for live action.
The chemistry wasn't immediate, but it's never expected to be.
It's usually built over time, especially when the passes are coming from a young quarterback.