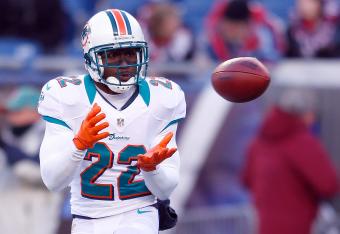 Reggie Bush's future with the Miami Dolphins may not be in his hands.
Jim Rogash/Getty Images
The Dolphins face a dilemma in determining whether to re-sign running back Reggie Bush.
On one hand, Bush is coming off a down year. On the other hand, he was their best offensive playmaker, and leader in total touchdowns.
On one hand, they have seen enough out of Daniel Thomas to know he likely won't help much in their backfield. On the other hand, they haven't seen nearly enough out of Lamar Miller to draw any sort of conclusions about his ability to fill Bush's role.
There are a lot of questions, but there are two questions that reign supreme: should he be back, and will he be back?