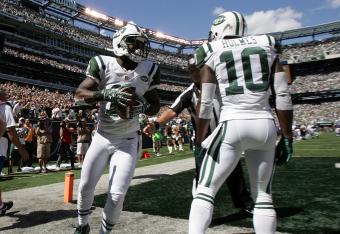 Rich Schultz/Getty Images
The New York Jets have a number of options at wide receiver already on the roster. With Santonio Holmes, Jeremy Kerley and Stephen Hill all under contract for 2013, the Jets aren't exactly desperate for pass-catchers. That becomes especially true if they end up re-signing free agent wide receiver Braylon Edwards.
Between outside linebackers, safeties and a quarterback, the Jets have far more pressing needs than wide receivers. That being said, they can't afford to ignore the position completely in the 2013 offseason.
The Jets got a measly 2,032 receiving yards out of their wide receivers in 2012, but much of their struggles could be attributed to injury and to poor quarterback play. Considering how stocked the cupboards seem to be at wide receiver, why is it considered a need for the Jets?
For starters, the wide receiver position will always look a bit worse when it's struck by an injury to its best player in Week 4. Stephen Hill was never supposed to be a No. 2 receiver, and the fact that he became one after just one injury is a testament to the poor job Mike Tannenbaum did as general manager—a topic we've discussed here at great length all the way through his eventual firing.