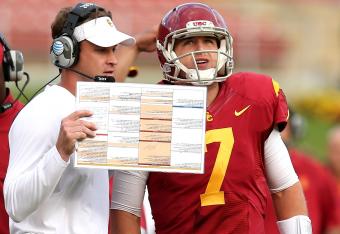 Barkley was a student of the West Coast Offense at USC, and could take what he learned with him to the Jets as they attempt to rebuild their offense.
Stephen Dunn/Getty Images
At some point, the New York Jets are going to have to look for a quarterback of the future.
Is that player available in this year's draft? We'll surely look back and say "yes" in a few years, but hindsight is 20/20. Right now, though, I can tell you for 100 percent certain that there's a quarterback in this year's class who can come in and start for the Jets.
I could be wrong on who it is, but even though this year's crop of rookie passers isn't considered one of the best in recent history like last year's was, it's impossible to ignore the smooth transitions of so many rookie quarterbacks of late.
Jets fans seem to agree that the quarterback is available, but no one can agree on who.