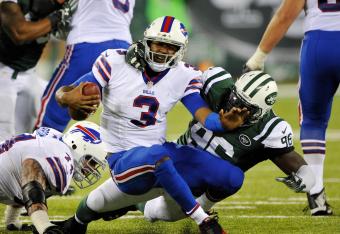 The Bills need to help rookie quarterback EJ Manuel (3, above) or he could be fighting for his life all season.
Robert Deutsch-USA TODAY Sports
It was apparent, right from the opening play for the Buffalo Bills offense, that the New York Jets were going to make life difficult for rookie quarterback EJ Manuel.
Instead of letting him complete anything he wanted in the 10-yard window beyond the line of scrimmage, they crowded that area and forced Manuel to go deep. He couldn't do it, and the results were as plain as English breakfast tea. The performance, however, was notably weaker.
Anytime a quarterback goes 19-of-42 passing, there are probably going to be some hangups in the offense. It wasn't just the stats that were alarming, though.
In drafting the big-armed Manuel, it seemed the Bills would get away from the dink-and-dunk offense that head coach Chan Gailey was handcuffed into running by quarterback Ryan Fitzpatrick's inability to throw deep. Manuel has struggled at times to throw deep, though, and against the Jets, that ability was completely absent from his arsenal.