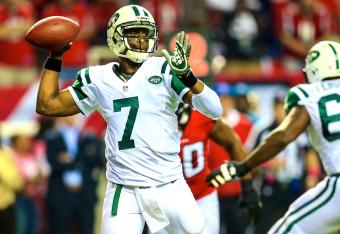 Just eight days ago, New York Jets quarterback Geno Smith was owning up to his defense for making too many mistakes.
On Monday night, Smith was owning the Atlanta Falcons defense by making few, if any, mistakes in New York's 30-28 win at the Georgia Dome.
As expected for a rookie signal-caller, it's been an up-and-down season for Smith. The lowest and highest points have both come in the past eight days.
The fact that Geno was able to rebound so quickly, after turning the ball over four times against the Titans, is a testament to his character, work ethic and dedication. Not a lot of people would think that Smith would play cooler than Matty Ice on prime time, but he stepped up on the big stage and proved that he can be counted on to correct his mistakes.