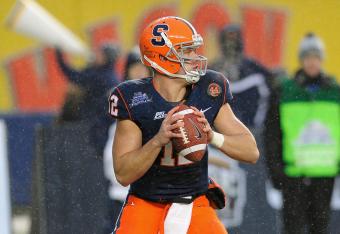 Rich Barnes-USA TODAY Sports
The Ryan Nassib bandwagon is getting ready to leave the station, and we know how the Buffalo Bills feel about wagons. They may want to think twice before they circle this one.
Not Greg Cosell of NFL Films, though. The well-respected film guru said Thursday on NFL Network's Path to the Draft that he considers Nassib the top quarterback prospect in this year's class, ahead of West Virginia quarterback Geno Smith:
Well, that's different, but not surprising.
The wide-ranging opinion of Nassib have had pundits all over the map. Two months ago, Russ Lande of NationalFootballPost called Nassib "the best quarterback in the 2013 NFL Draft and worth drafting with the first overall pick."