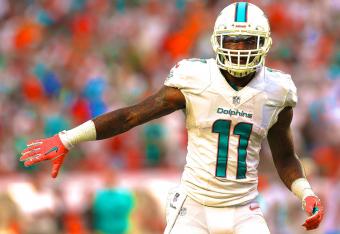 If the Miami Dolphins are losing patience with big-ticket free-agent wide receiver Mike Wallace, they shouldn't be. They may have overpaid a bit, but that's the price of business on the NFL free-agent market.
Aside from an egregious number of drops, he's been about as good as should have been expected—both in the context of his previous years and in the context of being ripped from one offense, one in which he had developed rapport with a veteran quarterback, to a new offense with a young quarterback.
In fact, right now, Wallace is on pace for a season that looks remarkably similar to his four seasons with the Pittsburgh Steelers.
The volume of drops is rather alarming, but given the drop rate over the course of his career, it could be an aberration. Compound his history of drops and remember that his head is swimming in a sea of new knowledge with a new playbook, and it's easy to see where his overall concentration might be suffering right now.