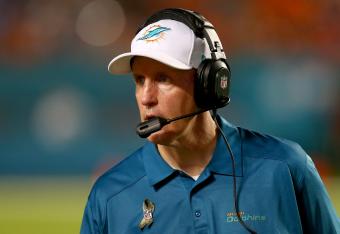 Can Joe Philbin (above) lead his Miami Dolphins to their first playoff berth since 2008?
Streeter Lecka/Getty Images
The fifth seed in the AFC playoffs is virtually a lock to go to either the Denver Broncos or the Kansas City Chiefs. Both teams currently sit at 9-1, and whichever team does not win the AFC West will most likely finish with the top Wild Card spot.
The sixth seed, however, is a much bigger question mark. With a conference muddled in mediocrity, there are several teams still in the hunt for January, but with two wins in the past three games, the Dolphins have re-entered the discussion of postseason contenders.
Looking ahead, some things stand out about those teams as it relates to their chances to clinch that final spot.
Of the eight teams on the list above, the Dolphins, Steelers and Raiders are the only three that won in Week 11. It may also help Dolphins fans to know that Ryan Tannehill is the third-rated passer of any of the eight starting quarterbacks left in the hunt, behind Steelers QB Ben Roethlisberger and Titans QB Jake Locker.