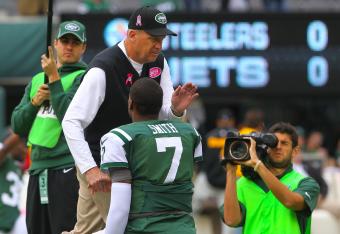 Ed Mulholland-USA TODAY Sports
Football purgatory. That's the only way to describe the state of the New York Jets as we head into Week 13 of the 2013 season.
On one hand, the Jets are on the brink playoff contention; on the other hand, they are on the brink of another stage in their rebuild—changes in the coaching staff and possibly at quarterback.
A 5-6 record gives the Jets a puncher's chance at the playoffs. If those punches aren't strong enough, though, the future of the franchise hangs in the balance.
With a pair of division games against the Miami Dolphins in the final five games, the Jets could still finish with a 4-2 record in their division, which would greatly help their chances of finishing with the AFC's final wild-card spot.