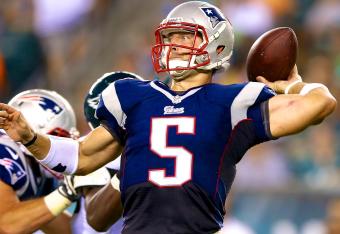 New England Patriots head coach Bill Belichick said he had decided on 80 percent of the roster before their final preseason game began against the New York Giants, but the biggest question of the night was whether Tim Tebow would do enough—or had already done enough—to make the roster.
It looked like he was going to make the roster before, and now, it looks certain.
To start, there is value in keeping him on the roster to help the Patriots practice against the read-option, which they will see a lot of in 2013. The Buffalo Bills, New York Jets, Miami Dolphins and Carolina Panthers will all most likely carry some read-option elements in their offenses.
If Tebow's on-field performance is how he's being judged for his likelihood to make the roster, there is no question that his outing on Thursday night was his best of New England's preseason.