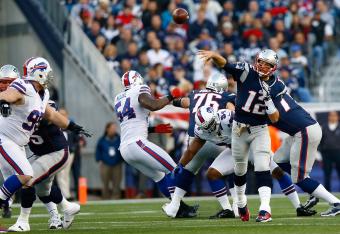 Tom Brady (12) is used to having a clean pocket to step into his throws against the Bills.
Jared Wickerham/Getty Images
In Week 4 of the 2012 season, New England Patriots quarterback Tom Brady took the shotgun snap and read the Buffalo Bills defense. He patted the ball, keeping his eyes downfield as hard-charging defensive end Mario Williams came around the edge, with right tackle Sebastian Vollmer rerouting Williams the long way around the quarterback. Instinctively, Brady stepped up to avoid pressure, buying himself enough time to find tight end Rob Gronkowski wide open downfield running a flag pattern.
That whole sequence of events took 3.7 seconds. That's barely a wrinkle in time for you and me, but it's an eternity for an NFL quarterback to read a defense. The Bills aren't going to beat the Patriots by allowing Brady to read their defense for that long. They have to force the issue.
In the Bills' two meetings with the Patriots in 2012, they pressured Brady on just 20 of his 77 dropbacks (25.97 percent) and logged just two sacks, both in the first meeting.
Considering Brady was pressured on 25 percent of his dropbacks for the 2012 season, the Bills actually performed better than the league average. That being said, one only needs to look at the numbers to know that the Bills need to do a better job of pressuring Brady if they're to come away with a win over the Patriots.