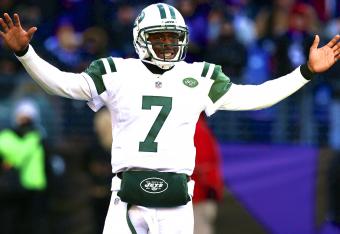 USA Today
All Rex Ryan had to say was "yes."
But when asked about Geno Smith's job security as starting quarterback, the Jets head coach didn't exactly offer a ringing endorsement.
"As I've said before, we'll look at the tape," he said. "I'm not going to talk about one individual."
That's familiar tact from Rex, who has used similar phrasing in postgame press conferences about one Mark Sanchez. Rex will most certainly see problems across the board when he turns on the tape, but he will find his laser pointer floating to No. 7 more often than any other player on the Jets offense.