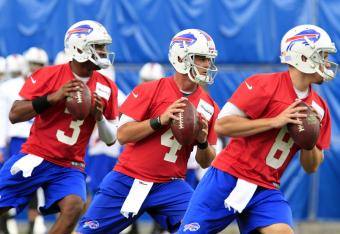 Kevin Hoffman-USA TODAY Sports
EJ Manuel was the first quarterback taken off the board in the 2013 NFL draft, the only one drafted in the first round.
Kevin Kolb is a veteran journeyman quarterback, once considered to be the future of the Philadelphia Eagles, before he was considered the future of the Arizona Cardinals, and before he was traded from the former team to the latter and then allowed to walk away in free agency.
Manuel and Kolb are now both competing for the right to be the Buffalo Bills starting quarterback in 2013.
We may think we know how this story will end, but with only two practices in the books, there's no reason to pull out our "Jump to Conclusions" mat just yet.