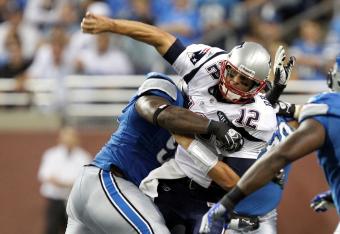 The Patriots offensive line gave up a ton of pressure to the Lions in a 2011 preseason matchup.
Mike Carter-USA TODAY Sports
The New England Patriots and the Detroit Lions square off in the third preseason game, which is often regarded as a "dress rehearsal" for the regular season. The coaching staff will typically have the starters play through the first half, then come back out to play after halftime to give them the feel of playing as close to a full game as possible.
As always, the preseason isn't just about the starters.
With cutdowns around the corner, this week also marks what will likely be the last we'll see of the starters until Week 1. The Patriots will probably take the fourth preseason game to evaluate the back end of the 53-man roster, with most of the other spots having already been determined by that point.
The games don't count yet, but there's plenty still at stake.